June 17, 2009
The Guardian of Truth
"GOT"
A PROTECTIVE MOTHERS ALLIANCE NEWSLETTER
"Ensuring the rights of children and protective mothers in family court."
Photobucket" border="0">
Dear Protective Mothers and Allies,
Welcome to the second edition of the Guardian of Truth (GOT).
In this issue, Lundy Bancroft will be put "Under the Microscope" and interviewed "Hollywood Style." In addition, Attorney Richard Ducote will share valuable information and so much more! We have received positive feedback about GOT and we thank you for your support.
The Guardian of Truth is a newsletter produced by Protective Mothers Alliance, which is an international organization co-directed by Lundy Bancroft & Janice Levinson who are working together to bring about change through local grassroots organizing of mothers, education, legislation reform, and enforcement of current legislation. PMA supports the efforts of protective moms in keeping themselves and their children safe from the abuse of a former partner, and in empowering these moms to become advocates for themselves, their children, and others. PMA is committed to bringing about dramatic reforms in the treatment of protective moms and their children in family court. GOT's mission is to report positive actions taken for change in family court by PMA, other advocates, and advocacy groups. We also report newsworthy items as they relate to family court issues. Our intention is to build bridges of action and communication between protective mothers, advocates, advocacy groups and professionals; the ultimate goal being to move together in the same direction towards change. While we try to maintain an upbeat attitude, we realize the seriousness of these issues, which is family court corruption and abuse. By no means do we minimize the devastation that the courts have caused; in fact, for most of us at PMA, we have lived it. All of us at PMA hope that you enjoy this issue of GOT and find it informative, inspiring and entertaining.
Warmly,
Janice, Lundy and the PMA Team
PMA is now international! Please join us in giving a warm welcome to Linda and her beautiful country, Italy! Please read "Get to Know Us" to get to know our newest member!
Protective Mothers Alliance continues to grow! We now have state chapter leaders in Florida, Tennessee, North Carolina, Idaho, South Dakota, New York, Massachusetts, Pennsylvania, and Colorado. So, if you would like to join our fast-growing team, please contact us at lb.jlpma@gmail.com or call 1-941-822-5592.
Protective Mother and Child Reunion
"The Gold Ribbon Campaign"
Our group, "Protective Mothers Alliance", has launched a gold ribbon campaign in an effort to reunite protective mothers and their children who have been separated by family court.
We invite all advocates and their allies around the globe to wear gold ribbons and to tie gold ribbons around trees, to symbolize the effort that protective mo thers and their allies are making to reunite children with their moms.

Please join us in supporting this campaign.

We will not stop, until family court stops destroying the relationships between fit mothers and their children!

"The beautiful memories that we have of our beloved children are golden and can NEVER be erased form our hearts and minds."
"Under the Microscope" -- Who is Lundy Bancroft?
"Inside The Actors Studio" with host James Lipton is known for a list of questions which he poses to each of his guests at the end of the interview. Lipton believes that these questions offer the listener an open window into the souls of his guests. He often mentions that this list was birthed by French novelist Marcel Proust (1871-1922). Proust did not actually create the questionnaire in which his name is attached, yet he did answer famously two versions of it, once at the age of thirteen and then again at age twenty. This served to make the list famous, but in fact the original author is unknown.
We at PMA believe that all protective mothers and advocates are modern day heroes. With this in mind, each issue of GOT will feature an advocate "Under the Microscope" interview, James Lipton style. So in keeping with the actors studio tradition, Janice interviewed her fellow co-director Lundy in which the following conversation ensued:
J: "What is your favorite word?"
L: "Justice."
J: "What is your least favorite word?"
L: "Bigot."
J: "What turns you on creatively, spiritually and emotionally?"
L: "Nature."
J: "Nice! … What turns you off?"
L: "Machines, concrete and technology."
J: "What sound or noise do you love?"
L: "Birds singing."
J: "What sound or noise do you hate?"
L: "Chainsaws. How about you?"
J: "We are really close on this one; jackhammers… What profession other than your own would you like to attempt?"
L: "Professional baseball player."
J: "Wow, you would get along great with my family. They are all die-hard Yankee fans… What profession would you not like to do?"
L: "Sales."
J: "If Heaven exists, what would you like to hear God say when you arrive at the pearly gates?"
L: "Let's have fun."
J: "What is your favorite color?"
L: "Burgundy."
J: "What is your favorite food?"
L: "Yogurt."
J: "If you could live anywhere in the world, where would you live?"
L: "Yosemite Valley."
J: "Beautiful, I've been there several times too… What is your dream vacation?"
L: "Backpacking in King's Canyon National Park."
J: "If you had a magic wand to do anything with, how would you use it?"
L: "Wipe oppression and discrimination from the Earth."
J: "Why did you begin this journey as an advocate?"
L: "Because I could not bear to watch loving mothers have their children taken form them due to trying to protect them."
J: "What motivates you?"
L: "Seeing the good in people."
J: "Thank you very much Lundy for allowing us to take a tiny peek into your soul and put you "Under The Microscope."
L: "You're welcome. It was fun."
Lundy Bancroft, co-director of PMA, is an author, workshop leader, and activist on trauma, abuse and healing. He offers dramatically new paths to understanding the emotional injuries we suffer, their lasting effects, and how best to get ourselves free. Lundy appears frequently as a public speaker and trainer, and as a leader of weekend retreats. Lundy's activist work is devoted to recovering the custody rights of protective mothers and their children in family court litigation across the continent.
Be sure to join us next time when we put Attorney Richard Ducote "Under the Microscope"! If you have any questions you would like to ask Richard, email us at lb.jlpma@gmail.com .
"Injustice anywhere is a threat to justice everywhere." Martin Luther King, Jr.
PMA Looks at the News
And so many in society still ask "Why did she stay?" Too many Moms are faced with domestic violence. Too many have to face the decision of whether they should stay and deal with the abuse to themselves and/or their children, or leave. Many know that if they leave, the abuser can fight for custody of the children, manipulating and lying in court to do so, using the courts to continue his cycle of abuse. Others that are lucky enough to retain custody of their children still have to face the manipulation and control that the abuser exerts through the children. As shown by the news article below, a Protective Order does not mean that the victim is protected from abuse. Here, a woman had full custody of her children and the abusive man had only visitation, yet things went totally out of control.
Too many times we've heard, "Just because he abused you doesn't mean he isn't a good Father." Where are the boundary lines? Speak to any victim that must continue to deal with her abuser through her children, hear about the abuse that the children continue to suffer, hear about the lies and manipulations that the victim must combat to continue to retain custody of her children, and with that fuller picture of the situation you will lose the temptation to ask, "Why did she stay?" In the news story below, you will see how the kind of case that is classified as a "family issue" can lead to the killing of a police officer that tried to protect a child. Our hearts and prayers go to the family of Officer Joshua Miller; he is truly a hero.
Police: Officers rescued boy during Pa. gun battle

By MICHAEL RUBINKAM, Associated Press Writer Michael Rubinkam, Associated Press Wr iter - Mon Jun 8, 6:46 pm ET
SWIFTWATER, Pa - Police officers in northeastern Pennsylvania recued a 9-year-old boy who had been kidnapped by his father as a fatal gun battle erupted between the man and state troopers, authorities said Monday.
After arguing with his estranged wife during a custody exchange, Daniel Autenrieth kidnapped his son at gunpoint, then led police on a 40-mile high-speed chase that ended with a crash and an exchange of gunfire, state police commissioner Col. Frank Pawlowski said. Autenrieth and a state trooper were killed.
"I can't begin to describe the hurt and sorrow being experienced by the Pennsylvania state police," Pawlowski told a somber news conference at the Swiftwater barracks, the trooper's home base. "What happened yesterday is nothing short of an American tragedy."
The chase Sunday night began outside Easton, about 50 miles north of Philadelphia, and ended just east of Tobyhanna in the Pocono Mountains when troopers purposely bumped Autenrieth's car, causing it to spin into a guard rail along state Route 611. As Troopers Joshua Miller, 34, and Robert Lombardo, 35, rushed the driver's side, Autenrieth took out a handgun and fired three shots from close range, police said. Though both troopers were hit, they returned fire, striking Autenrieth eight times. As the troopers and Autenrieth traded fire, two other officers plucked the boy from the front passenger seat of the car. The boy escaped injury. Autenrieth, 31, died at the scene. Miller, a Marine veteran who joined the force in 2002, was shot in the neck and thigh and was rushed to a hospital near Allentown, where he died of his wounds. Lombardo was treated for a gunshot wound and was released.
Miller was married with three children. Lombardo has been with the state police for five years. Both troopers are from Pittston. Outside the Swiftwater barracks Monday, about two dozen troopers, state police personnel and police officers from other departments lined busy Route 611, standing at attention and saluting as a convoy of police cruises and a police helicopter went past, escorting a hearse carrying Miller's body to a funeral home in Pittson.
Pawlowski called Miller "a hero." "An individual embroiled in a domestic dispute for some reason chose to escalate the violence, and it ended with a hero losing his life, a wife losing her husband and three children losing a loving father," Pawlowski said. [Editor's note: Notice how the police commissioner praises a man who kidnapped his son and killed a police officer by calling him a "loving father," and attributes his violence to the escalation of a domestic dispute, rather than to the father's horrific violence. And he doesn't mention that the mother had already needed to get a protective order against him.
Police were trying to figure out what set off Autenrieth, who was supposed to drop off his three children curbside at his estranged wife's townhouse Sunday night. Instead, he went into the house in Nazareth -- ignoring a May 18 protection-from-abuse order that forbade it -- and began arguing with her. A neighbor, Alrene Benginia, said she heard the couple screaming at each other. By the time she got outside to investigate, police had arrived but Autenrieth and his son were gone. "He has my son! He has a gun!" screamed the wife, Susan Autenrieth, according to Benginia.
Police immediately took off in pursuit and soon caught up to the suspect. The chase lasted more than 30 minutes and involved nine police cruises as Daniel Autenrieth threaded busy intersections and floored it on major highways, authorities said. "It was just sheer havoc out along the roadway," Pawlowski said. "It was an extremely dangerous situation."
Police said they are investigating how Autenrieth got the gun. Because he was subject to a protective-from-abuse order, he was not permitted to have one.
No one answered the door Monday at the home. Susan Autenrieth's landlord, Jay Orwig, said she moved to the townhouse with her three children in February. Her husband, who lived in nearby Palmer Township, "obviously wasn't thinking about the children at all," he said. Susan Autenrieth's next-door neighbor, Rachel Lilly, said she met Daniel Autenrieth once, when her children and his children played together at a community park. She said he seemed normal. "I feel so bad for all the children of the families involved, especially the children of the trooper," Lilly said. Susan Autenrieth, she said, is "a sweet lady who doesn't deserve this."
http://news.yahoo.com/s/ap/20090608/ap_on_re_us/us_troopers_shot
Hero-Shero of the Month
PMA is excited by the addition of Jennifer Collins! She and Karli Singer will be co-directing "Hear Us Now", a chapter of PMA, designed to bring out the voice of adult children who have suffered because of "court abuse." These young advocates want the world to know the pain and suffering caused by separating children and their Protective Mothers.
Karli and Jennifer met at the Battered Mothers' Custody Conference earlier this year. Jennifer had attended the conference to share her experiences with others in attendance. Jennifer had recently returned to the U.S. from the Netherlands where she, her mother and brother, had escaped to find refuge. Holly Collins, Jennifer's Mother, was determined that her children would escape abuse and that they would be protected. Holly fled with her two children after custody was given to their abusive father. They found safety in the Netherlands. However, because of insufficient documentation, Holly and her children spent several years in refugee camps. During this time the FBI found them and demanded that the Netherlands turn them over to the U.S. authorities, so she could be charged with kidnapping. But after conducting their own investigation, authorities in the Netherlands granted the family asylum due to the substantial evidence of abuse.
Finally, in 2008, with the help of advocates in the U.S., Holly was cleared of charges.
For more information: http://americanchildrenunderground.blogspot.com/
Now that Jennifer is over eighteen, she has begun to speak out about her abuse and the broken family court system. She has risen above the intense attacks by father supremacists and continues to find her voice, speak the truth, and be a powerful advocate for change. Jennifer's strength is admirable. She is a welcome edition to the PMA team and we are excited to have her on board!
To see more about the plight of Jennifer and her Mother, please watch this news release video...
Karli's Corner
Karli wants to share what she felt as a child, separated from her Mother. During the years of the custody battle which kept her away from her Mom, she kept a journal to record her thoughts. This is the first in a series of excerpts from Karli's journal. She was very kind to share this with us, so let's take a walk together as we venture along an emotional journey through the eyes of a child...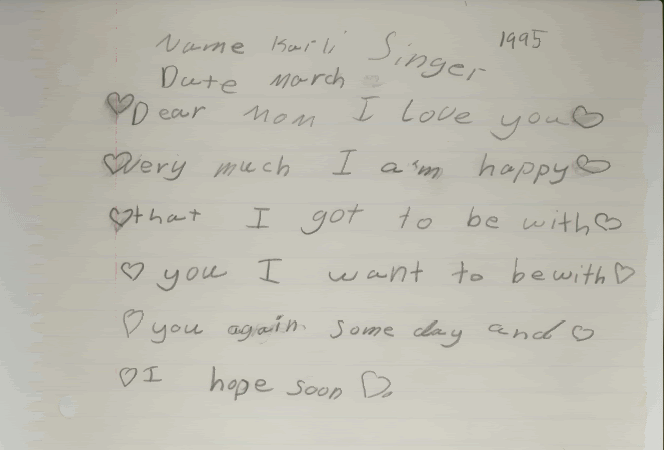 Richard's Report
Attorney Richard Ducote is an internationally renowned custody litigator in cases of domestic violence and child abuse. In his 28 years of legal practice he has achieved an impressive record of child advocacy success. In this issue, he has been kind to offer his expert advice to GOT for protective moms dealing with custody litigation.

PROTECTING KIDS IN FAMILY COURT CASES
Richard Ducote, Esq.

There is ample documentation of the difficulty parents, and particularly mothers, encounter when they seek to protect their children from domestic violence, and physical or sexual abuse, in family court custody cases. However, there are some encouraging developments within the legal system upon which we can build when litigating these cases. For example, the Hawaii Intermediate Court of Appeals issued a great decision in March, 2009, with the help of attorneys from Justice for Children, which allows confrontation and cross-examination of mental health professionals and guardians ad litem who were making custody recommendations. The Tennessee Supreme Court revised the guardian ad litem rules to eliminate the vast power and large fees these attorney's previously enjoyed. Then, in early June, the United States Supreme Court ruled that civil litigants have a constitutional right to impartial judges, and that campaign contributions, under circumstances, can force a judge to recuse himself.

When parents are faced with these difficult and abusive situations, it is essential that early decisions and strategies be correctly thought out, because it is much more difficult to undue a negative custody outcome than to prevent one. Courts are historically designed to adjudicate facts, i.e. did this or that happen. This process is most important where there are questions of violence and abuse, because if the starting point is not whether the abuse did in fact happen the family courts are likely to decide the child's custody in an unsafe way. Therefore, the protection of children in family court begins and ends with careful and thorough litigation maximizing the court's ability to accurately determined facts. So it is vital that, from the very early stages of the case, protective parents do the following:
Rely only on attorneys, physicians, and mental health professionals with documented training and experience in domestic violence and child abuse cases. General family court experience for lawyers, and general child custody and family therapy training for other professionals, is woefully insufficient for these cases. Attorneys who represent the abusers should be avoided, as their experience with abuse cases is generally counterproductive. Look for attorneys who truly understand the constitution, the rules of evidence, and the mental health field, and who are willing to challenge the system when it is failing. Stay away from lawyers who believe that the wise psychologist and the experienced guardian ad litem will always make the right decisions and we just have to trust them.

Object to any process where written reports are submitted by guardians ad litem, custody evaluators, or mental health professionals. Insist that all rules of evidence be followed, and fight to keep bogus theories such as parental alienation syndrome and the like out of evidence.

Always depose any professional who is going to have an impact on the case.

Insist that any attorneys who purport to represent the interest of the children, such as guardians ad litem, minor's counsel, or law guardians strictly comply with the American Bar Associations 2003 Standards of Practice for Lawyers Representing Children in Custody Cases and any state rules with similar provisions.

Never waive objections to unlawful procedures, and always argue that the court must decide the case based only on evidence properly admitted where your due process rights of notice and the opportunity for a fair hearing before an impartial judge are preserved.

Never waive your right to appeal an adverse decision.

Where children are old enough to testify about facts and events crucial to proving the abuse happened, their testimony should be presented, but in a way that minimizes the stress. However, continued abuse is much worse than the trauma of testifying.

Always use the testimony of fact witness who have direct knowledge of the abusive events, the aftermath of the abuse, and parenting quality. Do not expect the experts to be sufficient.

Never ask the court to require the accused abuser to submit to a polygraph, a psychosexual evaluation, or any other such evaluation. These devices are incapable of determining if abuse occurred and this strategy will backfire.
The first step in protecting children is controlling the process by which their fate will be determined. Where the integrity of the process is maintained, the opportunity for the court to know and understand the facts is maximized. Thus, an unbiased judge who considers only what is permissible, should then apply the law correctly with good results ensuing. While there are certainly no guarantees here, to ignore these guidelines will almost certainly invite disaster.
Inspirations from the Heart
CREATIVE WRITING BY ONE OF OUR MEMBERS:
WHAT SHOULD NOT BE
When the dust settles and all is quiet
When we are left with the destruction you have initiated
All against the innocent
All to hide your twisted and misguided intentions
Your sick mind
When the precious lives you have destroyed attempt to pick up the shattered remains...
While they are left sick to their hearts, stomachs and minds at the very image or thought of you
What then?
As I try to comfort the result of your destruction... the fear you have embedded in a life so precious...
As I attempt to sweep the hatred away and scour the filth... bandage the wounds and disguise the scars...
As her eyes, now not so innocent, stare into mine through her tears...
Questioning. Not understanding. She will not look toward you.
I hold her. I just hold her
I search for answers that do not exist... for reasons that have none... excuses that cannot sound plausible... my voice has no sound
I look up through the dust in this gathering gloom and see your figure walking away... No.
The tilt of your head and height of your sh oulders says you feel accomplished. It tells me you are proud. It lets me know you feel no remorse. There is no sadness. Only that which you have created.
You are incapable...
My mind cannot grasp it.
I look into her eyes again... the innocence is lost... the tears are blurring the color... I see the rage she is trying to either hide or understand... the questions she cannot grasp the words to ask...
I look to the Heavens... I ask why... something wet slides down my cheek
I cannot fix this. I pray for God to take you... but still I see you there
In the distance... all of your arrogance overwhelms me. Still I hold her...
Pseudo: DONNA BEVEL - 2009
Shout Out!
"Thoughts, ideas, comments and updates from Protective Moms, Advocates and Professionals"
Lundy Bancroft's Shout Out:
Lundy Bancroft is pleased to announce the First Protective Mothers Alliance meeting in Western Massachusetts. This meeting will take place mid-June, and we are sure it will be a success. We will keep you updated on the outcome of this meeting along with additional others in the future.
California's Shout Out:
Public officials call for major changes in family law
By Kamika Dunlap

Posted: 06/11/2009 06:54:02 PM PDT
Updated: 06/11/2009 09:03:13 PM PDT
http://www.insidebayarea.com/oakland tribune/localnews/ci_12573211

OAKLAND -- One by one, parents around the Bay Area are beginning to step forward to share heart-wrenching stories of the injustices they experienced in California's family court system.
These parents have joined with thousands of others statewide to reform the family courts and protect child victims of violence and sexual abuse from judicial decisions the parents say place children in harm's way.
"I'm living proof this is happening today," said Susan, a California Family Court litigant and mother whose daughter was placed with her accused molester. "The family courts crisis is a plague and it's destroying peoples' lives." About 58,000 children per year in the U.S. ar e ordered into unsupervised contact with physically or sexually abusive parents following divorce, according to experts at the Leadership Council on Child Abuse & Interpersonal Violence.
Many people concerned about the systemic problems with family court attended a daylong public forum Thursday at the Alameda County Conference Center.Some compared the family court crisis to the Catholic Church sexual abuse scandals because of what they call an institutional level of collusion of harm against children. Event organizers said they hoped the forum would inspire families who have survived traumatic family court ordeals to come forward in order to shed more light on the breakdown of the family court system. Participants, including family court litigants, child advocates and the general public, gathered to discuss the family court crisis and take a closer look at problems and solutions. The forum's session featured public testimony by speakers and a panel of legal experts and attorneys who gave free general legal advice about how to best protect themselves in the family court.
The event was organized by the Center for Judicial Excellence in partnership with UC Berkeley Boalt Hall School of Law, California Protective Parents Association, Justice for Children, California Safe Child Coalition, Child Abuse Solutions and the Incest Survivors Speakers' Bureau. Their collective goal was to push to improve the judiciary's public accountability and strengthen and maintain the integrity of the courts. In addition, the center produced a documentary, "Family Court Crisis: Our Children at Risk," and screened a 12-minute clip at the forum.
The American Judges Association found that approximately 70 percent of batterers succeed in convincing authorities that the victims of their abuse are unfit or undeserving of sole custody. Alameda County Supervisor Gail Steele and actress Nancy Lee Grahn from ABC's "General Hospital" are family court reform advocates and also participated in the panel discussions. Steele announced a new initiative to help better protect vulnerable children in family court. It includes her support of the passage of new proposed legislation by Assemblyman Jim Beall, D-San Jose, and Assemblywoman Fiona Ma, D-San Francisco, to reform family court. Her initiative also calls for the passage of Sen. Mark Leno's request for a legislative audit of Marin and Sacramento Family Courts. She also is pushing for ombudsman positions to be created in the Alameda County District Attorney's Office, where parents can go for help and to plead their case.
"The system has to change in California and across the country," Steele said. Grahn did not talk in detail about her $1 million family court battle but said her experience was "maddening and perplexing." She was upset to learn that some laws were unfair and t hat some court procedures were abusive and treated children like hostages or assets that need to be divided up. After a three-year ordeal, Grahn finally gained custody of her 11-year-old daughter. She now works with community organizations and travels the state to meet with lawmakers and inform them about the about pitfalls of the family law system. "I met people who were in similar or worse situations," Grahn said. "There are thousands of women who were protective parents and their children were taken away and handed over to their abusers."
For more information visit, www.centerforjudicialexcellence.org
http://www.insidebayarea.com/oaklandtribune/localnews/ci_12573211
Kudos for all involved and Thank You from PMA!

"Life's most urgent question is "What are you doing for others?"" Martin Luther King, Jr.
Get to Know Us:
Here is Linda's story:
During her marriage, Linda's current husband became increasingly aggressive, yet separation was quite peaceful. Once he finally left Linda and her children, they were all thankful for the tranquility. After their separation, Linda's soon to be ex had little time for the children, so things went smoothly. But three years later he suddenly became aggressive again, scaring the children by threatening to take them away from their loving mother. Linda has proof of these threats in the form of voicemails. Events escalated as he started stalking the family. Linda initiated court action by asking for supervised visits, which the Court did not oppose. Unfortunately, Linda had an evaluator who came to the conclusion that the problem involved both parents and the children were suffering because of constant arguing. Yet another psychologist opposed this theory without success.
Regrettably the judge decided in favor of the former evaluator and custody was given to social services. After a year of supervised visitation in which the dad openly showed his abusive nature, causing the children to manifest health issues, a neuro-psychiatrist stepped in. He concluded that the dad was creating problems and sent his report to social services saying as such. The neuro-psychiatrist prescribed pet therapy, which the children loved. Currently, Linda is forced to attend couple's therapy with her abuser, causing her to feel both fearful and traumatized.
We will follow Linda s situation closely, giving her comfort and support. It will be interesting to compare and contrast the family courts in Italy with those in the United States.
"Faith is taking the first step, even though you don't see the staircase." Martin Luther King, Jr.
Please visit us on our various venues!

Please visit us on our facebook page: http://www.facebook.com/group.php?gid=58041937814
Here is the link for the Gold Ribbon Campaign Facebook group: http://www.facebook.com/group.php?gid=96245838687
The Guardian of Truth - Go here to submit stories http://www.facebook.com/home.php#/group.php?gid=80414044039&ref=mf
PMA has now joined with MySpace! Please visit us and join as a friend at: http://www.myspace.com/protectivemothersalliance
PMA is also on Blogspot: http://protectivemothersalliance.blogspot.com/
Snag and share photos and videos with PMA at Photobucket: http://gs169.photobucket.com/groups/u204/J16OTAQIHO/
To join our rapidly growing team, to share your views, articles and feedback; or if you have any questions that you would like to ask, contact PMA:

Phone: 941-822-5592
Email: lb.jlpma@gmail.com

Until next time, Wishing you Light, Love and Truth:
The PMA Team...A Family of Advocates

©2009 by Protective Mothers Alliance. All rights reserved. Although some parts of this publication may be reproduced and reprinted, we require that permission be obtained in writing.

We do not necessarily endorse the views expressed. The information in this publication is presented in good faith. PMA does not guarantee accuracy or assume responsibility for errors or omissions.

We welcome your views, articles, and feedback!